Release of Muscat 5.0
Muscat 5.0 is up and running! It is one of the most feature-rich releases so far. The major features of this release include the link of @mentions in comments of interactive cataloguing, links to music work authority data, filter based notification for modifications on sources, composite volumes for the description of printed items bound together, server-side validation, and faceted search on number of printed copies.
Mentions in comments
Comments are more interactive in Muscat 5.0 with the option to use @mentions for addressing other Muscat users directly. Typing the @ will trigger a list of users to be displayed. Users mentioned in a comment will be notified by e-mail and will also receive further notification when additional comments are entered for a resource.
Work authorities
Muscat 5.0 has an authority file for works, which can link to the VIAF work authority entries. An authority record for a work records all information that is true for a work as a whole, no matter what other forms a piece of music exists in, whether it be—for example—an arrangement, a translation, a full score, or a single manuscript. Authority records can include the composer, title, title variants, key, instrumentation, and incipits. Associating a musical source in Muscat with an authority record for a work ensures that all instances of any given piece of music are linked together. This improves the searchability of the catalog and helps users find all relevant sources, regardless of whether, for example, one manuscript calls the famous Mozart opera "Die Zauberflöte" and another is labeled "The Magic Flute," or a small chamber music piece is called a "duet" on one manuscript but a "sonata" on another. Beyond Muscat, in the linked data environment, information on works—and the associated RISM records—can be integrated into web searches, online encyclopedias, and other external databases.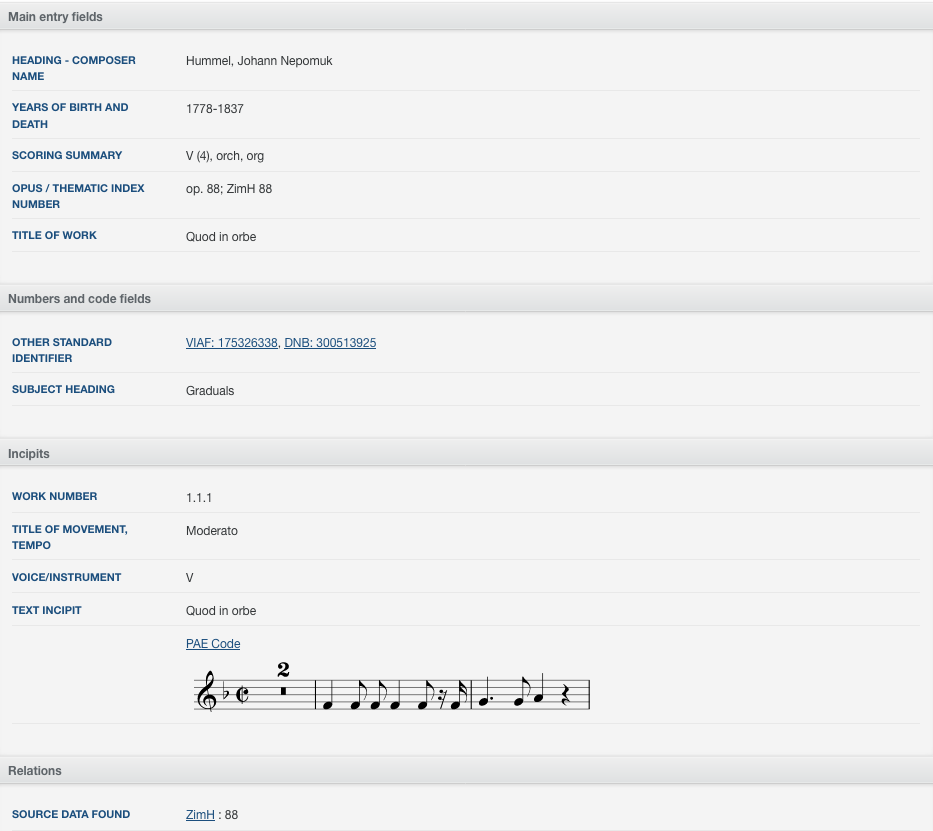 Filtering by number of copies
In Muscat discovery interface it is now possible to filter by number of copies for the prints. This makes it possible, for example, to retrieve a list of prints inventoried only in two libraries, or the list of unica for a particular library.
Notifications
For people wishing to follow additions and modifications in Muscat, it is time-consuming and unrealistic to have to keep checking it occasionally to see if a source or another entry has been added or modified. The version of Muscat (5.0) includes the ability to create alerts following the creation or modification of entries. Users can click on their name in the upper right-hand corner in Muscat, then click Edit. Notifications can then be added using pattern. Alerts are set with patterns and fields. For example, a user might want to create an alert for sources matching a certain library sigla and/or a shelfmark, or sources composed by a certain composer. Once this is set in the user profile, the user receives weekly notifications with a list of created and modified entries matching the alert.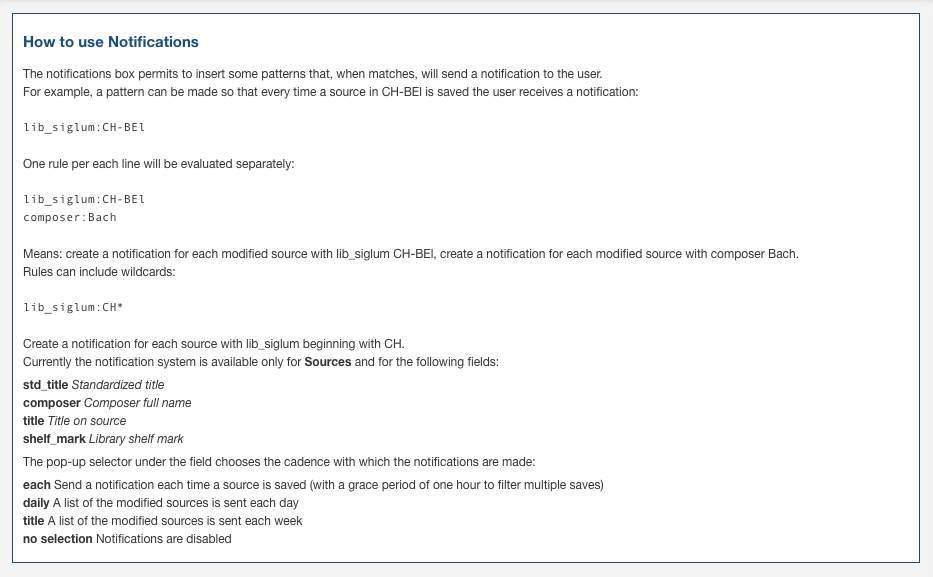 Composite volumes
Muscat 5.0 now allows composite volumes that include printed materials to be described through a parent record with links to the individual items. Parent records can now be created for (1) separately issued printed items bound together and (2) manuscripts bound together with printed items. This can be useful for projects willing to provide an in-depth description of how printed music editions are bound in their particular library. See, for example, record 1001056386, in which in which two printed items are bound together.

Validation
The record validation was refactored in Muscat 5.0. It is now much more robust, with server-side validation that allows for more verifications to be performed before a record is saved. This means that, when saving a record from the user interface, the data is send to the server for validation, and feedback is returned to the user if the validation fails. This new architecture will make it possible to improve the quality of the data further in the future.