Authority linking
Personal name authorities and works (as of Muscat 5.0) are linked to the Virtual International Authority File (VIAF). A field in the cataloguing interface allows for searching VIAF directly from Muscat and selecting the corresponding entry. The mapping between the RISM authority entry and VIAF makes it possible to link further with other resources that use VIAF.
SRU interface
Muscat includes a SRU (Search / Retrieve via URL) interface. SRU is a standardized web service protocol used for searching databases in the Internet. In Muscat, the results of the search are issued in MarcXML format. The SRU interface opens up the possibility of various kinds of searches: full-text, by composer, or specified searches such as by library or other criteria. In addition, SRU search interfaces are available for personal names and libraries.
The SRU search interface can be used to create customized web-based catalogs based on any subset of the data stored in Muscat, such as for a particular library or country. In such cases, the SRU interface serves solely as the back-end infrastructure.
Interoperability with MEI
In recent years, the Music Encoding Initiative (MEI) has become increasingly used in scholarly projects dealing with music sources. For this reason, it is important for Muscat to be interoperable with this standard. To do so, Muscat leverages the fact that both its internal source description format (MarcXML) and MEI are in XML. This means that a transformation with the XML technology XSL can be used to export Muscat source descriptions directly to MEI.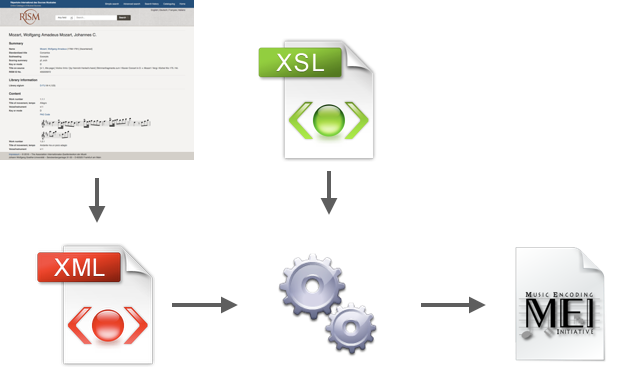 Muscat currently embeds a default XSL stylesheet that performs this transformation. However, because the needs of projects concerned by this approach can vary, it is also possible to upload a custom stylesheet.
Music incipits in the MEI export can be left as Plaine and Easie incipits or converted to MEI encoding by Verovio.
---